If you're looking for ideas/inspiration for a unique enclosure for your project, you've come to the right place! Ideas and pictures on this page are contributed mainly by members of DIY guitar stompboxes groups and communities on G+, Facebook, Reddit and other forums. Some projects have also been handpicked from the internet without which, this list would be incomplete. Want to feature your pedal in this list? Click here.
Out of the Ordinary Enclosures-
1. Glow In Dark Fuzz Face
Germanium fuzz face clone with glow paint; sounds like a piece of moon rock!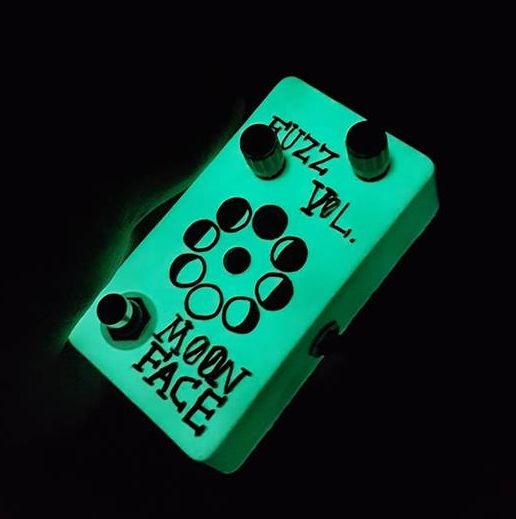 2. Merry Christmas OverDrive
Merry Christmas OD from

Mean Machines FX Pedals.

It's a transparent overdrive that uses sound to light up LEDs. The Christmas tree lights up to the rhythm of the music!
3. The 1954 Transparent Fuzz Pedal (Patent Pending)
4. The Complete picture
Planning to build pedals on a large scale? Here's an idea for the pedal maniacs!
5. The Quick builds
At times, cheap enclosures from reusable tins and vessels make just the perfect housing for 'on the go pedals'.
Pedal with an expiry date?
The Coconut Pedal
6. Deluxe Strat Booster
7. Need I say?
The very next thing that should be followed by a strat pedal.
8. Wooden Enclosures?
Wooden crafted enclosures may be very taxing to make and require woodworking skills, but are surely feasible for those who can!
9. Danelectro Series
Perhaps better known for their economy Mini series, Danelectro has released some beauties over the years. The sixties-inspired collection: a reverse delay, sitar emulator, talk-box and flanger have a really characteristic appealing look that makes them stand out of the crowd!



A Magnavibe, built into a model car.

"More affordable muscle cars in different colours are yet to be added to my pedal board fleet"




A portable, transistor radio converted into a guitar pedal, by Mark Davis.



INSPIRED PEDAL ART-
A collection of the most unique and characteristic pedal art created by passionate hobbyists!
Theme based art-
Final Fantasy VII ZenDrive
Hand painted drive pedal by Joe Warnock.
Minecraft themed Pedal by
The Hot Sauce Preamp Drive Boost Pedal
Fulltone Soul Bender clone
A sweet Fulltone Soul Bender clone with AC176s built by Clem West. For more of his projects be sure to follow him at westpedalsinc.
Concrete FUZZ
Concrete stands out in the silicon jungle. A unique
low gain fuzz with a buffer
pedal by Cory Pierce.
Clean Text Art
A neat Feedbacker Fuzz by

Adam Jóźwiak.
Blackened oakwood and electro-etched aluminum plate. Goes from clean to slaughter of the innocents.
Occvlt Dope Fuzz
Pedal building is an art and takes several hours of work before the creation of a masterpiece. Hobbyists invest time and money in creating masterpieces, please credit the creators if you happen to replicate any of the artwork on this page.
Certain Pedal-Art may be patented. Kindly, consider contacting the creators before replicating any art from this page on a commercial scale.